In line with its efforts to enhance the UAE's status as an innovation hub, Abu Dhabi Fund for Development (ADFD), the leading national entity for development aid, hosted a lecture by Fatima Al Kaabi, the youngest Emirati inventor, who specialises in finding creative solutions to the challenges facing the community. Coinciding with UAE Innovation Month, the event aligned with the Fund's drive to promote a culture of innovation and excellence in the organisation.
In her talk, Al Kaabi offered ADFD employees key highlights of her journey of innovation to date. The 16-year-old has 12 inventions to her credit across several sectors, notably safety and security, special needs and renewable energy. Al Kaabi said: "I created my first invention – a robot that photographs people – in 2012 and presented it at the 12th Asia Pacific Conference on Giftedness as the youngest participant and inventor at the event. In June 2013, I came up with my second invention – a robotic replica of the character Um Khammas from the popular cartoon Freej. The idea was inspired by the UAE's victory in the 21st Arabian Gulf Cup."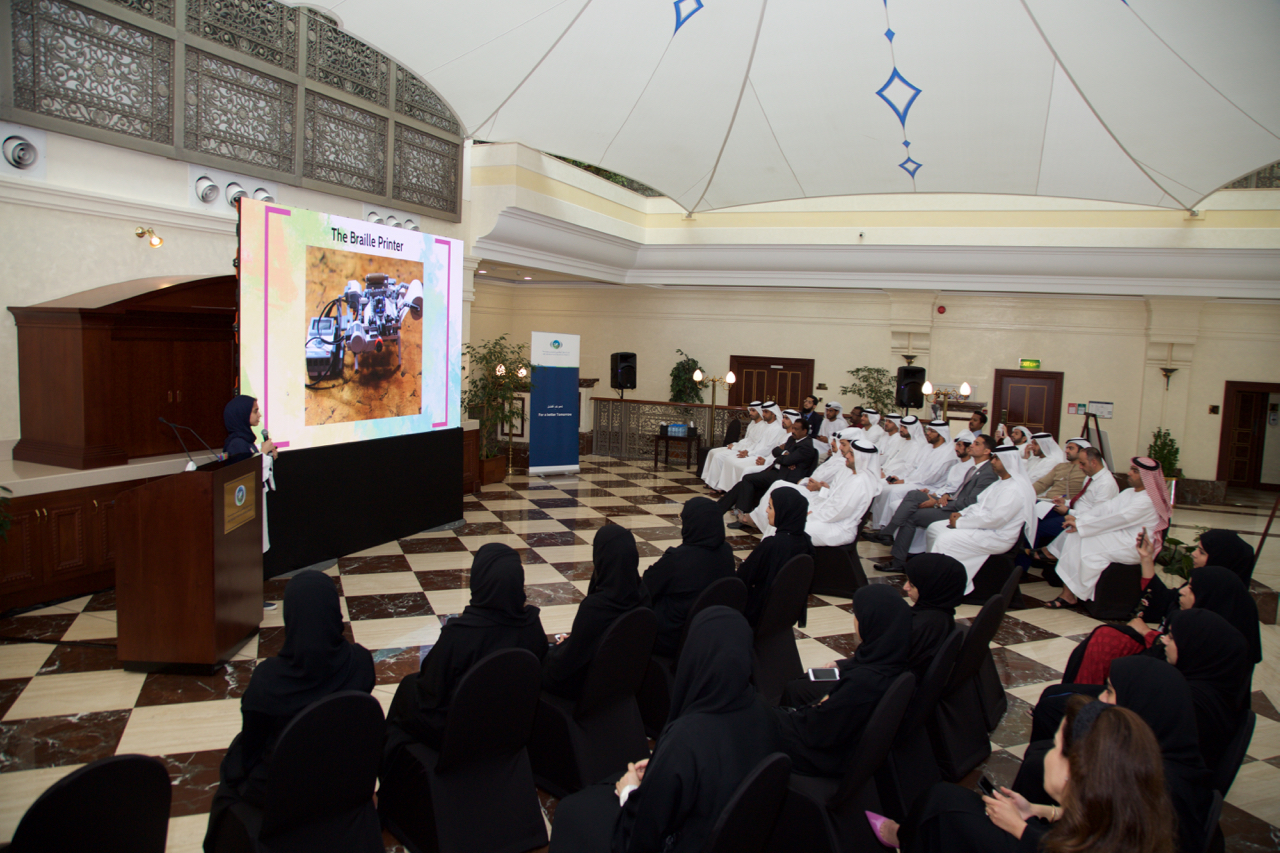 For her innovations, Al Kaabi won the first place at the UAE National Robot Challenge with her voice-operated Braille printer. She also invented a multi-purpose bag that works on renewable energy and a robot that can attend school on behalf of students who are unable to do so due to reasons such as disability, illness or travel for treatment.
Al Kaabi attributed her passion for innovation to the inspiration and support of His Highness Sheikh Mohammed bin Rashid Al Maktoum, Vice President and Prime Minister of the UAE and Ruler of Dubai, and His Highness Sheikh Mohammed bin Zayed Al Nahyan, Crown Prince of Abu Dhabi and Deputy Supreme Commander of the UAE Armed Forces, who have honoured her on multiple occasions. Furthermore, she expressed her appreciation for the continued support of her family, her school and the UAE community at large in achieving her goals.
Al Kaabi said that behind each of her inventions, there is a story that touched her profoundly, and she makes every effort to come up with innovative solutions that help address the challenges facing different segments of society. She also hopes to contribute to building a prosperous future for her nation and to be part of its ongoing development in various spheres.
His Excellency Mohammed Saif Al Suwaidi, Director General of ADFD, said: "We are delighted to host Fatima Al Kaabi, a unique example of an Emirati girl who strives to excel and be innovative in serving the needs of her community. Aware of the importance of excellence and innovation in driving the nation's development goals, our government honours innovators and encourages them to achieve their objectives while contributing to the progress and prosperity of their country."
He added: "Creativity and innovation are at the core of Abu Dhabi Fund for Development's values. We are intensifying our efforts to strengthen the culture of innovation, solidifying our approach in improving performance, productivity and efficiency. Moreover, we apply this drive in our core business where we support innovative development projects in developing countries by launching pioneering initiatives in collaboration with international and regional development organisations."
In closing, His Excellency Khalifa Al Qubaisi, Deputy Director General of ADFD, presented a certificate of appreciation to Al Kaabi. He commended her impressive achievements and wished her further success as an innovator in supporting the national development goals and serving the interests of humanity at large.