Starting January 2017, startAD Incubator will accept applications from early stage startups from across the UAE and globally to join its rigorous training program, where up to 15 startups will take part in the first cycle of the program designed to fast track growth and launch new ventures in the UAE and broader MENA region.
Offered twice a year, the startAD Incubator will deliver a four month training program to startup teams, including supports such as an up to USD 60,000 seed investment, shared space, mentorship and legal assistance. It will also grant entrepreneurs access to leading UAE industry players as well as the New York University global network of mentors and fellow entrepreneurs, in addition to providing opportunities for business viability testing.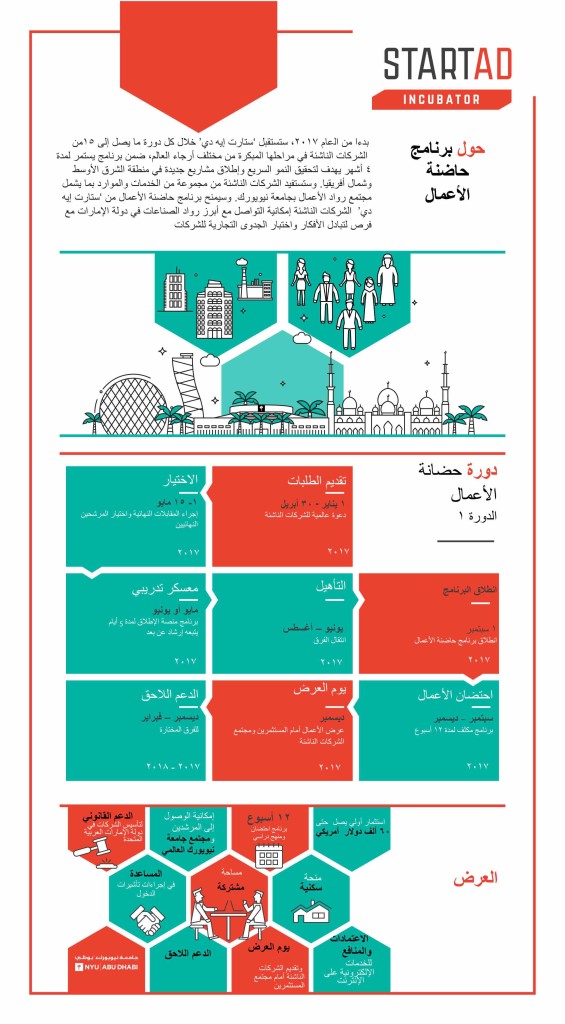 Applications for the startAD Incubator will be accepted from January 1, 2017 via the startAD website, with the first intake selected by May 2017 and taking up residency at NYU Abu Dhabi in September 2017. From September onwards the startups will join an intensive 12 weeks incubation program, after which they will pitch their business models to investors and the wider startup community. startAD Incubator will continue to provide follow-on support for selected teams following the end of the cycle.
Speaking about the incubator, Ramesh Jagannathan, Managing Director of startAD said, "Abu Dhabi is an important center for emerging industries such as Fintech, Health Tech, Energy, Aviation and logistics, and smart cities. We invite early stage tech startups to apply online through the startAD website and share information about their founders and core team, the startup concept, including any unique technology involved, and details around the business model including the value proposition and target customer market for the product.
Through the startAD Incubator, we hope to contribute to the development of the entrepreneurial economy in the UAE by supporting corporations to innovate through startups and allowing startups to validate their business ideas with corporates. Long term, these startups will contribute through job creation and technology development."
startAD is an Abu Dhabi innovation and entrepreneurship platform anchored at NYU Abu Dhabi and was founded based on a partnership between the University and Tamkeen, a Government of Abu Dhabi company. It offers a full stack entrepreneurial experience for the global startup community and supports the entrepreneurship ecosystem through education initiatives and the creation of startups. startAD also falls in line with Abu Dhabi's commitment to promoting innovation to facilitate the creation of a truly diverse, entrepreneurial economy.
To apply, please visit: http://sites.nyuad.nyu.edu/nyuadstartad/startad-incubator/