My Startup World spoke to Ali Dabaja, the Founder and CEO of Hajjnet, about his company, the apps his company has developed, and the way forward.
Can you tell us something about yourself?
My name is Ali Dabaja and I am the Founder and CEO of Hajjnet, a Dubai based start-up, that makes smartphone apps dedicated to supporting millions during the Hajj and Umrah pilgrimage. I have worked in the investment and banking for most of my career. I have never done Hajj or Umrah and hence, wanted to make products that could empower someone like me, who is not an expert.
How did you arrive on the idea behind HajjNet and its products?
I was visiting a Hajji after his return the second year in a row and started to discuss his challenges, experiences, and so on. Although I didn't have a true "concept" then, I felt there was an opportunity and called one of our key advisors who has held a very senior position at one of the top 3 online travel sites for more than 10 years.
We have been close friends for even longer than that and when I brought the idea to him, we didn't know exactly what the concept was or would develop into. However, we did know there was both a market and a need there. The more we looked into it and studied the business opportunity the more compelling it became.
His support, friendship, experience, and advice, was invaluable. What has been really encouraging and humbling is the support our investors and advisors have given us and our concept, and although a few of them are very devout, it was not driven by "faith" but rather our concept and commercial opportunity. We attracted what our head of content calls a "dream team" and from this I really learned the power of a great team and did not want to settle for anything less.
How and when was the company started?
We established Hajjnet in the Dubai Silicon Oasis as a Free Zone Establishment about a year and a half ago.
Give us details on how you collected the funds for the company, the people you contacted and so on.
We actually put the primary focus not on raising the money but on first developing the concept and then creating a good pitch deck that properly illustrated it in the Guy Kawasaki format:
Problem (In our case we called this Opportunity)
Our solution
Business model
Underlying magic/technology
Marketing and sales
Competition
Team
Projections and milestones
Status and timeline
Summary and call to action
During that process, we worked on gathering the right advisory team and that really made a tremendous difference. In our pitch deck we also clearly illustrated what our brand look and feel would be like as well as mock-ups of our products.
We were very selective in who we pitched to and in hindsight used a very effective process. I am personally fortunate to have had the support of one of my best friends from the onset who encouraged, advised and supported me. We raised our seed money from friends and family.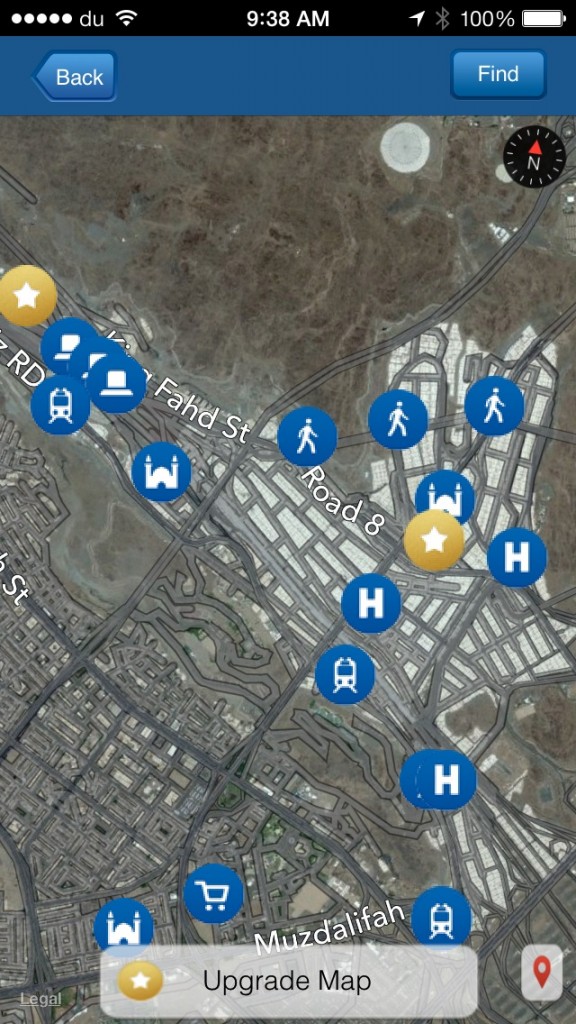 Tell us about how you went about registering the company, the initial number of employees, the managing partners of the company and so on.
We established an offshore company that is owned by the investors and that company established Hajjnet. We started with four full-time employees and are now growing the company. I am the CEO and Founder, but I depend on the input of our whole team, including advisors and investors and prefer to build consensus among them.
How do you think will products from HajjNet change the way pilgrims go to Umrah and Hajj?
Our goal is to inform and empower with technology. We want today's Muslim to be informed and confident and in turn able to focus on spirituality and faith.
What is the USP of HajjNet's products and services?
We offer today's pilgrim the real-time, location and process based support they need to focus on the spiritual aspects of fulfilling their religious obligations. Features include prompting pilgrims to read or hear the appropriate Duas or prayers at the right time and place; counting the number of Tawaf as they are being performed and full camera, map & Social Media integration.
Our apps also allow users to compose their own personal Duas and have them accessible at any time on the toolbar. We have also incorporated video to demonstrate how to properly wear the Ihram towels.
Aside from guidance on the performance there is a process view so the user can see where he/she is in the process, what was section was completed and what's next. Our map is the best I've seen with historical landmarks, metro locations, mosques, and so on. We market our products and services using social media.
Apart from being involved in HajjNet, are you also involved in other business / initiatives / companies / startups?
Yes, I am involved in other ventures, too. However, for now, my focus is Hajjnet.

What are your future plans for HajjNet?
We will be rolling out an exciting suite of web products in Q1, most of them are integrated into our apps. People think of us as an "app company". Ee are not – although our strength today clearly falls in apps.
What are your future plans as an entrepreneur?
I prefer to think of myself as a businessperson. My future plans are continuing to drive Hajjnet forward and to provide maximum value to our users and impact their pilgrimage experiences in a positive and meaningful way.
What is your advice to other entrepreneurs in the process of setting up shop in the Middle East?
My biggest advice to today's entrepreneurs would be to only work with people you trust and who have done it before. The rest are just going to use you to gain experience and will take the opportunity to try to jump on for the ride without being able to create any value.
What factors according to you should one take into consideration prior to starting their own business?
A friend of mine, who likes to call herself an entrepreneur, wrote a piece on this that really hit home with me. She says, it is more about confidence and passion and not letting the bumps get you down. I think you should only do it if you are completely committed. You will most likely be taking investment from others and you have a duty to them to work towards that initial concept and plan that they agreed on.