Tanzania based Ubongo won the 'Next Billion' Edtech Prize 2019 organised by The Varkey Foundation to recognise the most innovative technology destined to have a radical impact on education in low income and emerging world countries. Ubongo leverages the power of entertainment, the reach of mass media, and the connectivity of mobile devices, to deliver effective, localized learning to African families at low cost and massive scale. Its family-friendly content promotes literacy and education in resource-poor areas
Ubongo was voted for by delegates at The Global Education & Skills Forum (GESF) 2019 from three finalists which included PraxiLabs from Egypt, and Dost Education from India. All three winners were awarded $25,000.
30 startups were selected to pitch over three days for the Next Billion Edtech Prize, which focuses on low income and emerging economies. The winners were chosen from six semi-finalists which included FinEazy (UK), Signa (Brazil), and Sabaq (Pakistan). 
Led by TechCrunch Editor-at-Large Mike Butcher, an expert panel of judges made up of venture capitalists, philanthropic investors, experts in Edtech and learning sciences, and senior education policy makers selected the semi-finalists from the final 30. The jury selected the three winners from six finalists who pitched on the main GESF stage on Sunday morning. The audience voted on who should lift the trophy.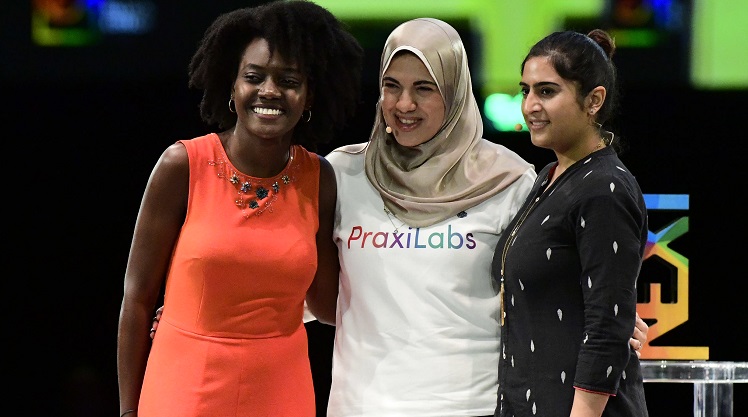 Doreen Kessy, Chief Business Officer at Ubongo said "We're delighted to have won the Next Billion Prize. We're already having an impact reaching children but this award will mean we can do so much more. By 2022 we plan to reach 30 million children in Africa and our ultimate goal is to reach 440 million – every child in Africa."
The other two winners India based Dost and Egyptian startup PraxiLabs were also facilitated during the ceremony.
The Indian startup Dost focuses on empowering parents of any literacy level to take charge of their child's early education, creating short, friendly audio content that is sent to parents via their mobile phones. Dost software, audio content, and toolkits make it easy, fun and addictive for parents to boost their child's early development, so low-income families need no longer send their children to primary school behind and without a chance to catch up.
Speaking at the occasion, the Dost CEO Sneha Sheth said"It's really exciting to bring Dost to the global stage at GESF, it motivates us even more to keep working on our mission to help parents to unlock their child's full potential."
PraxiLabs provides virtual laboratories for schools and learning organizations in the Middle East and beyond. With 3D simulations of major experiments in biology, chemistry and physics, students can access these from their devices at any time. Additional multimedia files help students perform their scientific experiments and the whole process can be integrated within existing learning management systems of schools or education providers, giving learners worldwide tools to experiment and learn science.
Commenting on the winning, Khadija Elbedweihy, PraxiLabs Founder said "We are thrilled to be one of the top three winners for this prize, this is a priceless opportunity for us to help build awareness of our mission of providing the world with more scientists."
Sunny Varkey, Founder of the Varkey Foundation and the Next Billion Prize said "We use the 'Next Billion Prize' to highlight technology's potential to tackle the problems that have proven too difficult for successive generations of politicians to solve. Our fervent hope is that the prize inspires practical and persistent entrepreneurs the world over to come forward with fresh tech ideas. These ideas must be hardy enough to improve education in regions where young people are denied access to a good quality teacher and a great learning environment".
The Next Billion Edtech Prize, which comes five years after the Varkey Foundation founded the US $1 million Global Teacher Prize, was awarded for the first time at the GESF 2018. The GESF brings together over 2000 delegates from around the world to solve the big questions in global education.