My Startup World spoke to Nisha Varman Shetty, the Founder of The Urban Yogi, about the entrepreneurship journey she embarked upon to found a truly luxurious lifestyle brand.
Can you tell something about yourself?
I am a Singaporean Indian, living in Dubai for the past 7 years with my husband and my 2 young children.
How did you arrive on the idea behind The Urban Yogi?
Shopping in Dubai can be daunting for someone who has eclectic taste and you wants to steer clear of mass-produced soul-less merchandise. The region does very well in luxury retail but lacks in the field of sustainable luxury which is the foundation of The Urban Yogi, a sustainable luxurious living brand.
How and when was the company started?
We launched The Urban Yogi in mid-2012 at Dubai Ladies Club during Ramadan featuring our exquisite tableware collection. We then moved to Mercato to showcase our tableware and furniture in a pop-up-store format.
The Urban Yogi is mainly self-funded for the past two years. The most important thing about our business model is that we bring home décor wares to the UAE that have never been seen before. So I spend a lot of my time travelling and seeking artisans and companies working with artisans to ensure our sourcing is unique.
After that, things fell into place when it came to logistics. We worked with a 3PL service provider in the beginning and we have now shifted to our own 3000 sq ft warehouse in Jebel Ali.
Finding the perfect location for our products has been a challenge, given that we're a startup and that we didn't have the budget for huge overheads that the bigger malls pose. So we reached out to independent malls in Dubai such as Mercato Mall, Times Square, Wafi Mall, Burjuman, Village Mall, and Dubai Ladies Club to create awareness for our brand.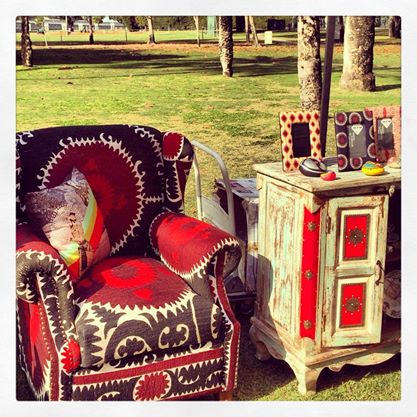 Tell us about how you went about registering the company, the initial number of employees, the managing partners of the company and so on.
As we're a retail business, we couldn't go the free zone way. So we needed a local partner and we registered the company at DED (Dubai Economic Department). I was my first employee so to speak, spending long hours at the mall, manning the pop-up-store, connecting with customers, and explaining the philosophy behind our brand.
My husband (an entrepreneur himself) has been a big support. He has always been there for me all the way from sourcing to manning the store when it got too busy. Within six months, we hired our first employee. Today we have three retail staff, and one of them is an interior designer. We also have four warehouse personnel and some dedicated and passionate part-timers during events.
How do you think will products from The Urban Yogi change the way people look at home furnishings and related products?
Our target audience within the UAE have celebrated the arrival of The Urban Yogi because there is definitely a gap in the region for handcrafted, conscientious, and one-of-kind home décor wares here. Our aim is to fuse style with sustainability and give local and regional artists a platform to get recognition for their talents.
What is the primary source of revenue for The Urban Yogi?
Primary revenue streams for us would be through sales from our pop-up-store and our online store on Tejuri.com.
Apart from being involved in The Urban Yogi, are you also involved in other business / initiatives / companies / startups?
I have always been working with brands in my past life. From managing out of home advertising at Singapore Changi Airport and Doha International Airport to working with the BBC, its been a fun journey.
In late 2008, I joined forces to work at my husband's digital media startup called Clique Media, where we represented LinkedIn within the region.
What are your future plans for The Urban Yogi?
Scaling the business is our biggest priority, followed by investing in the right kind of personnel along with the artisan mix and having a fully functional e-commerce website.
What are your future plans as an entrepreneur?
I see The Urban Yogi as a lifestyle brand instead of just a home décor entity. My vision as an entrepreneur is to fully expand the potential of the brand and be a hub for attracting the best design talent that is out there.
In line with our vision of being sustainable, we want to make a difference to the lives of our design heroes namely weavers, potters, carvers, painters, and artisans who face the risk of abandoning their legacy in order to make a living.
What is your advice to other entrepreneurs in the process of setting up shop in the Middle East?
Write that business plan, focus on the details, and then get started. Budding entreprenerus need to ask themselves these questions before jumping on to the startup bandwagon – Is it a passion or is it just a hobby? Can you sustain it when things get difficult?