in5, the enabling platform for entrepreneurs and startups, launched by TECOM Group, is leading the charge in transforming the UAE startup space with its sustained efforts in accelerating the scope and visibility of entrepreneurs amongst a valuable pool of thought leaders, the wider business community and investors.
Commenting on in5's progress to date, Malek Al Malek, CEO of TECOM Business Parks said: "We congratulate our in5 members who have made the most out of the startup opportunities offered to them. Since the launch of in5 in 2013, our members have raised approximately AED140 million in funding. Building on our early success, we look forward to continue providing emerging entrepreneurs and startups with platforms to not only succeed in their own businesses but also yield transformational benefits for entire societies."
As part of its five-pronged mandate, in5 provides young companies with a robust startup ecosystem, training, mentorship and networking opportunities with investors, as well as cutting edge prototyping labs and vibrant workspaces.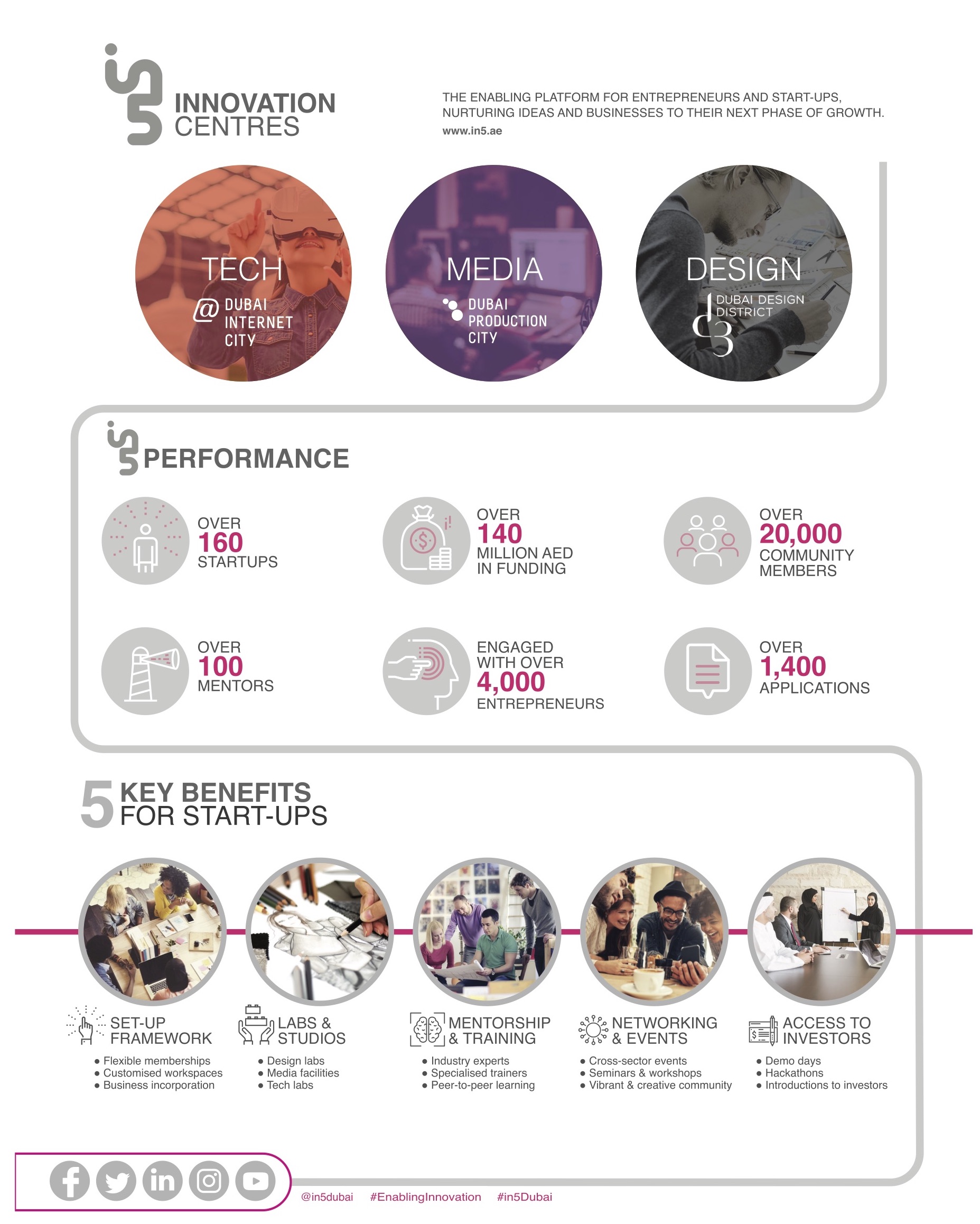 Al Malek added: "Dubai ranked 15th on the Global Innovation Cities Index 2016, a position it is working hard to improve through innovation-centered strategies such as the Dubai Plan 2021, which calls for individuals to adopt an entrepreneurial mindset and make Dubai one of the world's leading business destinations. At TECOM Group, we see ourselves as a major contributor to this ambition. We believe in the power of connectivity and understand the economic imperative of innovation. We set up in5 in response to a need in the market for ecosystems helping entrepreneurs bring their ideas to life."
Al Malek further added, "By helping businesses reach maturity, we are paving the way for more home-grown enterprises to thrive and contribute to the development of our communities and industries. At in5, it is our mandate to help inventive companies grow locally so they make a tangible difference globally, by providing a business enabling environment across the full lifecycle of business development. Souq.com, for example, grew and developed as part of Dubai Internet City (DIC) and its success is a recent example of our mission."
With over 1,400 applications, in5 to date has supported more than 160 entrepreneurs and startups through more than 100 mentors and three dedicated Innovation Centres in Tech, Media and Design, located in Dubai Internet City, Dubai Media City and Dubai Design District (d3), which house smart labs, recording studios and design workspaces among other facilities. Nurtured by stimulating workshops, talks and events, creative minds can thrive and bring their ideas to life.
In the month of April alone, in5 showcased 20 of its members at leading innovation driven events in the UAE, including AIM Startup, STEP Conference and the ING Creative Festival, where over 1,500 entrepreneurs and startups participated and engaged in creative talks and workshops.
As part of their presence at AIM Startup and the STEP Conference, in5 members participated in pitch competitions with commendable outcomes. LZine, developer of an Intelligent Personal Assistant app, reached the final round at the AIM Startup, while Nester, a company behind a shared parking marketplace, claimed the winner's title at STEP Conference's seed stage pitch competition.
At ING Creative Festival,  in the company of 55 global artists, in5 sponsored a series of media and design focused workshops, including Leatherworking, Character Magic, Get Your App Together, Eastern Kufic Calligraphy, and Branding Tools.
in5 can support students, entrepreneurs and startups through a number of flexible memberships, ranging from access to creative spaces to build their prototypes all the way to business set up.