In a detailed interview with John Mullins, Associate Professor of Management Practice in Marketing and Entrepreneurship at London Business School and a celebrated author talks about his latest book "Break-the-Rules: The 6 Counter-Conventional Mindsets of Entrepreneurs" explaining what makes entrepreneurs "entrepreneurial", and how they differ from other successful businesspeople.
Congratulations on your new book, please share in your words, the response to "Break-the-Rules: The 6 Counter-Conventional Mindsets of Entrepreneurs" by the readers.
I think the great thing about the feedback I've received from my readers is that they were able to take a deep dive and understand the different mindsets I outlined in the book. They think of it as a practical learner's manual to understanding, learning, and applying the various counter-conventional mindsets, and are encouraged to utilize them in their own startups and businesses.
I can often feel the excitement that the readers have, with many of them intending to start out on their own entrepreneurial path and using my book as a tool to assist them on the journey. The positive, "yes, we can!" spirit that the book encourages is reflected in the attitude of the readers who I regularly meet. This is a source of enjoyment for me as I love to hear of the innovative ideas that my readers want to bring to the business world and how the book is assisting them in achieving this.
Some readers have told me that my background in entrepreneurship, combined with my academic experience, gives credibility to the messaging in the book. The fact that I have worked with many successful entrepreneurs and business leaders who have taken career paths that challenge conventional wisdom, is taken as an endorsement by many readers.
What is one thing your readers liked about the book, other than it's written by you?
It gave them a glimpse into how some of the best innovators in the world think and provided them a roadmap, if you will, on how to achieve success by applying these mindsets.
Multiple readers have told me that the book proves to them that it truly is mindset over matter when you're aiming to succeed, regardless of whether others have failed before you. Time and again, I have heard it being said that the book is an "eye-opener", and that in the spirit of the title, it encourages readers to "break-the-rules" and challenge conventionalism.
To sum-up, most readers of the book, which is designed to encourage entrepreneurship, are looking for guidance and inspiration on how to start and grow their own business. While they appreciate the practical advice, personal stories, clear language, and actionable takeaways, it is the uniqueness of this book which encourages counter conventional thinking that they value most of all.
What are these 6 counter-conventional mindsets and how have you classified them into 6 categories?
I have over 20 years of executive experience in high-growth retailing firms, including two ventures I founded and one I took public, and my entire book is built on research-based insights. As I examined my past body of case-based field research, I discovered that there were six distinct mindsets that connect what entrepreneurs observe and encounter and how they respond. They are as follows:
"Yes, we can!": When approached by a potential customer inquiring about a solution or product that is new or unfamiliar, outside current competencies, entrepreneurs say "Yes, we can!". Then they figure out how to accomplish it.
"Problem-first, not product-first, logic: Entrepreneurs know to put solving customer problems at the front of their business objectives. As prominent venture capital investor Vinod Khosla famously remarked, "It's very simple. Nobody will pay you to solve a non-problem."
Think narrow, not broad: It is important to build a strong foundation before scaling your business. Establishing success in a tiny market can pave the path to success, expansion and growth.
Ask for the cash, ride the float: Entrepreneurs can generate cash to grow their business by getting customers to pay in advance then paying their suppliers later.
Beg, borrow, but don't steal: To become successful, you need to have access to the right resources. "Borrow" the resources you need to start something new instead of investing in those resources right off the bat, especially in scenarios of high uncertainty.
Instead of asking permission, beg forgiveness later: Organizational hierarchy can dampen entrepreneurial spirits and getting new things done in established companies typically requires permission. When sparked by innovation ideas and/or solutions, entrepreneurs choose to act first and deal with the red tape or beg for forgiveness later, if necessary.
Each of these six mindsets can be learned, practiced, and built upon by anyone, in any business setting large or small, old or new, to create thriving businesses that grow and prosper.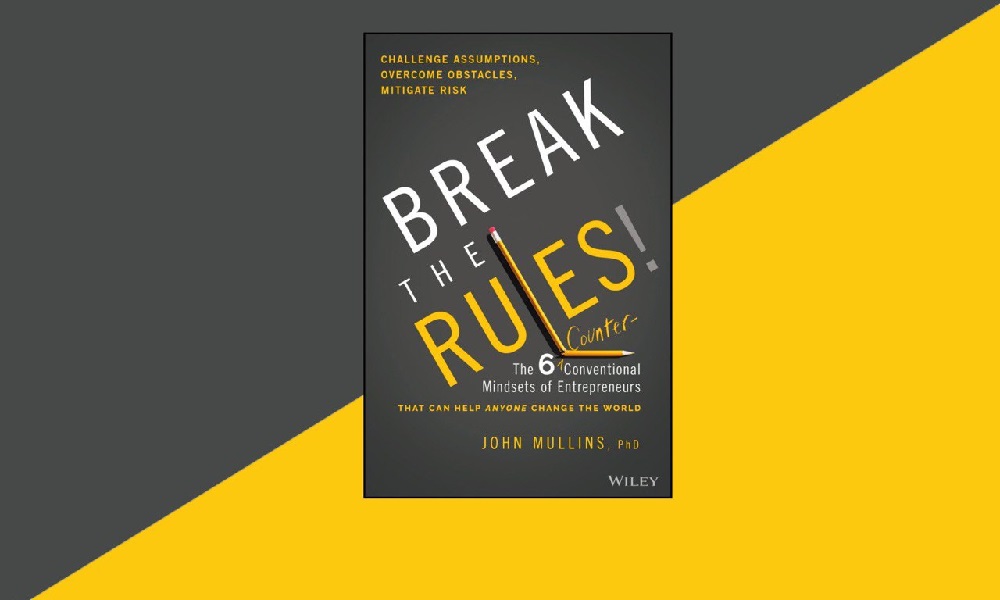 Do you think understanding these mindsets can help anyone become a better entrepreneur?
There is a certain nuance these mindsets have, and the beauty is that anyone, from a reader to an aspiring founder or established entrepreneur, can master them and improve their entrepreneurial approach.
This book dives into the 6 different mindsets that you see in entrepreneurs today and understanding them can be a powerful tool for gamechangers in the industry. Some entrepreneurs showcase one mindset, others more than one. Regardless of the number, they have been able to hone their capabilities and become successful in the industry they are in.
A key point is knowing which one suits your leadership style, the way you want their business to succeed and knowing how to deal with the obstacles that stand in your path. As you read the book and get a deeper understanding of the various counter conventional mindsets, you will also become enlightened on the possible mindset(s) that you can adopt to become more successful.
You have been part of several leading startup communities across the globe, so how do you evaluate the startup landscape and where is it heading?
Currently the startup landscape is flourishing and thriving, especially in the MENA region. There are many brilliant minds in the startup world at the moment, with innovative products and solutions who are striving to bring their businesses alive, often by seeking venture capital.
The MENA region is the hub startups need to establish themselves and grow. Over the last few years you can see that the region has supported and accelerated countless startups and provided them with the tools need to ensure they succeed.
Globally, remote and hybrid working, as well as rapid adoption of technologies, has allowed individuals to unleash their entrepreneurial passions, leading to a rise in new businesses. Despite the current turbulent economic conditions, many countries are encouraging new businesses and supporting start-ups.
I think right now there is a great emphasis on sustainability. With COP28 fast approaching, startups in this area, and those with strict ESG policies, have the potential to grow exponentially, should they successfully identify opportunities and pursue them effectively.
What is the best way to hone your entrepreneurial skills?
Being an entrepreneur is not only a career, but it also becomes your way of life. Entrepreneurs need to constantly be striving to be better than the day before.
Practicing perseverance can go a long way. You will face many obstacles; being able to persevere through the challenges is very important.
Developing and/or strengthening your Interpersonal Skills can do wonders. A part of being an entrepreneur is networking and interacting with other people. You won't be able to grow your business as a one man band; you need investors, clients, a team of people. Improving interpersonal skills through daily conversations can help you polish up the qualities you need.
Working on proper communication and teamwork are other crucial factors. You need to be able to communicate thoughts, ideas, and concerns with your team and work collectively to problem-solve.
What is one thing that sets a successful entrepreneur apart from the rest?
Entrepreneurship is not something that is to be taken lightly. They need to put in blood, sweat and tears to make their business successful and that takes time and effort. Through that, having a resilient mindset, one that is ready for a challenge, that can adapt to changing conditions, plays an integral part in ensuring your business is on the path to success. As outlined in my new book Break the Rules!, it does help having at least one of the 6 "counter-conventional" mindsets to differentiate you from the rest.
What should one remember before embarking on their entrepreneurial journey?
Being an entrepreneur can be a tough journey, from my own personal experience, it has its highs and its lows. You need to passionate about your business and be willing to put in the time, effort, and energy to ensure it grows, reaches various milestones, and achieves success. It isn't easy and you will need to constantly push past the barriers to come out stronger on the other side. While embarking on your entrepreneurial journey, adopting counter-conventional mindsets, gives you the ability to challenge assumptions, tackle problems, and lead your business in ways that are distinctive from the rest.
Though the toil involved with entrepreneurship can at times be a challenge for even the most adaptable and prolific entrepreneurs, I would urge those involved in enterprise to never lose sight of the potential rewards.